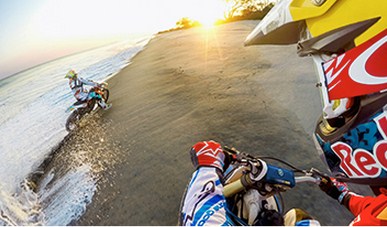 Protune unlocks the camera's full potential, delivering minimally compressed, cinema-caliber video optimized for professional productions. - See more at: GoPro
Protune Key Benefits Include
High-Quality Image Capture: Protune's high data rate captures images with less compression, giving content creators higher quality for professional productions.
Neutral Color: Protune's neutral color profile offers more flexibility during post-production color correction. Protune's log curve captures more detail in shadows and highlights.
Film/TV Frame Rate Standard: Record video in cinema-quality 24fps and easily intercut GoPro content with other source media without the need to perform fps conversion.
Turning Protune ON affects several settings and features, such as Video Resolution, fps, FOV and Simultaneous Video and Photo.
Protune is compatible with professional color correction tools, editing programs and GoPro Studio.
Protune for Photos - Available in HERO4
Turning on Protune in your camera causes the videos you take to look less sharp, and you'll also notice that the colors look more washed out. This is different than what you're probably used to, which is that crisp, bright look and feel to GoPro's footage. We stripped this away to give our professional users more of a "blank slate" so they have more freedom in their post-production workflow.

Basically, the main purpose of the ProTune setting is to help you get more dynamic videos from your camera. We really wanted to meet requests from members of our professional community, many of whom edit footage from their GoPro cameras together with footage from other cameras. The stripped down video makes it easier for them to do that.

What this means for the every-day user is that Protune footage requires more editing to get that traditional GoPro look. That's great if you want to spend more time editing your footage to put your own unique spin on it, but if you want to do simple editing and already like the GoPro look and feel that you're used to, we'd recommend leaving Protune turned off.
To record Protune footage, you'll need to turn Protune ON in your camera's settings menu.
You may notice that Protune footage looks 'washed out' and less sharp than what you're used to seeing from your camera. This is because a neutral color profile is applied to Protune footage. The Protune preset is automatically applied to the Protune footage in GoPro Studio, so that the colors look great and images are sharper.